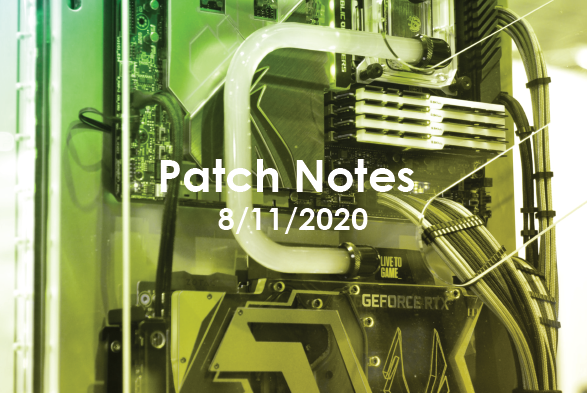 What a time to be alive!
If you discount COVID-19, Impeachment trials, wildfires and the untimely passing of one of Basketballs greatest athletes, there is a lot to be thankful for. The world came together to help Australia when it experienced one of its greatest national disasters of all time. Healthcare workers answered the call in uncertain times to lay their lives on the line every single day. And let's not forget the Tiger King giving us a bountiful amount of memes!
But that's not exactly what I'm talking about. We're more specifically talking from a technological standpoint. 5G technology will drop a DVD download that used to take 13 minutes, to 2 seconds. Autonomous driving is becoming more and more prevalent every day. A.I. products are beginning to alter industries all over the world (we know a thing or two about this.). So where does ARCQ fit into this?
AOS API is completed.
Last month we briefly introduced you to the AOS API. AOS serves as the "behind the scenes", B2B arm of ARCQ. The ARCQ Engine is powerful. Through some accidental, Dr. Frankenstein engineering, we discovered an unforeseen way to interact with it. What exactly does that mean though? ARCQ can now offer services to developers who want to query AOS through a browser address.
For example let's say you write songs for a living. As with all writing, you hit that mental wall that just shuts down your creative juice. Enter AOS through the ARCQ platform. You decide to upload all of the lyrics you've written into ARCQ. Don't worry, you still retain 100% ownership of all that data. AOS will almost instantaneously take that data and spit out a brand new song from your writing. It is still the same genre and feel as if you had written it yourself, almost like magic. The possibilities become endless.
We're now hard at work integrating this into the platform as well as building out our first vertical, GTM (Go to Market) strategy. Our priorities will start getting back to updating the platform on a more consistent basis and get any bugs worked out that we find. The list from last week is still the same as we diverted our attention into getting the API up and running.
So far, this is the feedback we are tracking:
Black screen when trying to record videos for post on Samsung devices. (We think this may have to do with permissions and are looking into it.)
AOS models AI Platform
Desktop mode CSS
Custodian mirror for user cores.
Back button for cached app.
Add to home screen npm package react
Category Headers & Topic Detail headers
On /topic-detail pass the category and topic through the state to the record page when your click "record a response" button
Selectable Gradient Overlay on Profile
Gutter fill on right side, app wide fixed.
Slideshow on login for application
User Profiles need to show Bio
Remove ability to follow self on own profile
Issue when first time login occurs that says user already has an account since Aug 2019.
Profile Picture issues when replacing photos in a short amount of time, new photo doesn't reload.
Remove Autofill function when speaking with the Curator
People have profile pictures uploaded to their profiles but they are not registering in their follower orbs
We strongly believe in transparency with our users, our investors and our future client's. If things ever seem like they are going slow, we will tell you why, that we promise.