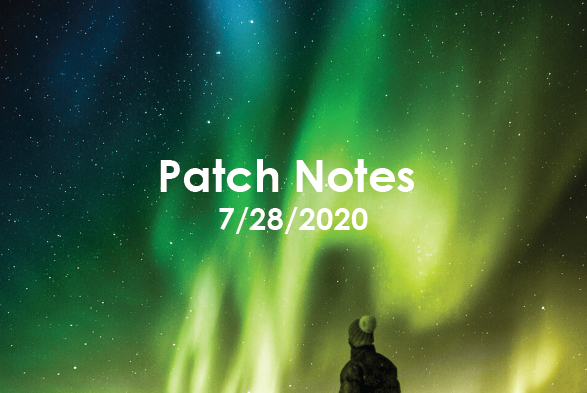 We had a great first week in the Open Beta and have begun to get a lot of the stuff addressed through the community. Keep it coming!
A Reminder
Just a reminder, every week on Tuesday it is our goal to keep the community informed on all major tickets, UI/UX redesigns, and anything else we are aware of and need to patch. It is our intention to make your voice heard as I discussed in my Letter from the Co-Founder. This weeks was a few days late because we wanted to make sure some of the things from last weeks bullet points were properly addressed.
We pushed another update this week as you can see the strike through below on the lists from last week. All of our profile pictures are cropping now effectively as well as follower orbs on your profile.
The wallet is correctly counting earned as well as spent tokens. The conversion rate however has a bug showing a 1 to 1 ratio for tokens to USD. This is not correct (sorry guys) so keep your eye out on that being fixed within the week,
So far, this is the feedback we are tracking:
When viewing another user's profile, Private Posts & Public Posts are registering the wrong counters.
Cropping Issues on followers profile images when viewing from personal profile.
Black screen when trying to record videos for post on Samsung devices. (We think this may have to do with permissions and are looking into it.)
Wallets counters for AI Trained & Spent fluctuate to random numbers when reloaded.
Cropping issues on profile pictures.
Profile picture & buttons disappear randomly.
Google Log in Issues (some users have reported that they already had an account when they've never signed up for one).
Issues we are tracking and will be taken care of by the end of the month:
Searches hooked up where commented out
AOS models AI Platform
Desktop mode CSS
Custodian mirror for user cores.
Back button for cached app.
Cached screen blank fails to load
Add to home screen npm package react
User profile page buttons hooked up for connect function
Category Headers & Topic Detail headers
On /topic-detail pass the category and topic through the state to the record page when your click "record a response" button
Some new things to be added to these lists next week are as follows:
Selectable Gradient Overlay on Profile
Gutter fill on right side, app wide fixed.
Slideshow on login for application
User Profiles need to show Bio
Remove ability to follow self on own profile
AOS & Integration
While these edits are always a high priority for us and the community, a lot of attention is being diverted right now to AOS and integrating that into the ARCQ platform. What's AOS you ask?
AOS will give our users the ability to interact with the ARCQ Engine in a very unique way to help with creative processes. Essentially you will be able to load a certain data set into the AOS framework from the application and it would generate a unique response specifically related to that data. For example, you write poems and are having a creative block so you upload your poems into the AOS feature. ARCQ generates new poems based off your poems you've uploaded. You can see examples at https://www.instagram.com/oracle.poems/ .
What does this have to do with ARCQ and Becoming Eternal? Linearly nothing is the short answer. Multidimensionally everything though. You see, our vision for the future is one where the possibility of sitting down with Plato and having a discussion on virtue theories of ethics, is just as common an occurrence as typing a comment now to a friend's post.
To do this we know that ARCQ has got to grow our real life human cores (your digital copies) right along with building historical figures long since past. It is a lot on our plates but there is a method to our madness for the ultimate user experience. Stay tuned for more updates as we progress on this journey.
Keep comments coming in and we'll make sure those comments are properly addressed!
-Chris Baldwin